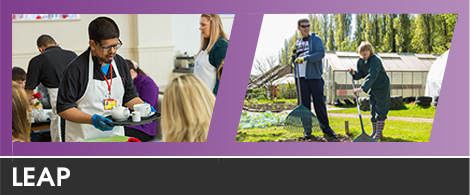 The LEAP programme (Learning, Employment and Progression) is all about having tasters of work and work experience whilst gaining a useful qualification for your future.
LEAP qualifications are at Entry 3 and Level 1.
LEAP has been designed with flexibility in mind and students are required to build a portfolio of evidence. Students on the LEAP programme have a main focus on a particular area of interest, but are not entirely limited to one subject, getting tasters of other areas too.
Some of the areas covered by LASER LEAP include:
Creative Arts
Employability Skills
Horticulture and Floristry
Hospitality and Catering
Preparing to Learn
Sport and Active Leisure
Work Experience and Work Preparation
Dedicated areas equipped to meet the needs of students known as Hubs, which focus on specific career pathways, can also be accessed via the LEAP programme. Currently, there are 4 Hub areas:
LEAP Hub Creative
LEAP Hub Hospitality
LEAP Hub MVS (Motor Vehicle Studies)
LEAP Hub Trades
LEAP Hubs aim to develop basic knowledge and understanding of business development through exploring the different employability skills needed to help secure employment in a chosen area.
Each LEAP study programme will also involve English and Maths and any required support and/or therapies to meet individual needs.
What the students say
Staff are very supportive and make my time at College fun! My independence and confidence has improved which makes me really happy.
Keeley - 21
LEAP (Learning, Employment and Progression) Student