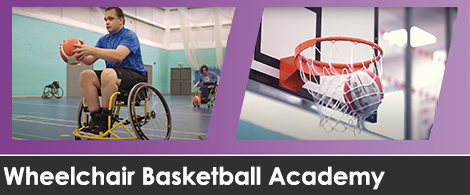 Queen Alexandra College (QAC) are working in collaboration with University of Worcester and The Albion Foundation to deliver a unique and ground breaking bespoke Wheelchair Basketball sport performance programme.
The programme is specifically designed for ambitious young sports people aged 16-24 years who use a manual wheelchair and are eligible under the International Wheelchair Basketball Association (IWBF) classification criteria.
The home of our new and exciting Wheelchair Basketball Academy will be the University of Worcester Arena. This first class facility was the training base for GB Wheelchair Basketball teams in preparation for the 2016 Paralympic Games.
University of Worcester
The University of Worcester are recognised as world leaders in the development of educational practice in inclusive sport and this was acknowledged in 2019 as winners of the Guardian Internationalisation Award.
They are owners of the Worcester Wolves British Basketball League (BBL) franchise and have a longstanding tradition of working at local, national and international level in all forms of Basketball and Wheelchair Basketball.
The University of Worcester has also been selected as one of four universities to become part of a new women's premier league for British Wheelchair Basketball. The League will be the first of its kind for women's wheelchair basketball in the world, and the very first professional para-sport league in the UK. Read more about it in this attached link.
The Albion Foundation
The Albion Foundation is the charity of West Bromwich Albion Football Club. The Foundation has an outstanding reputation for their work in disability sport and has a well-established and successful Powerchair Football Academy with QAC.
Downloads related to this article: