Work Placement Opportunities - Preparation for Life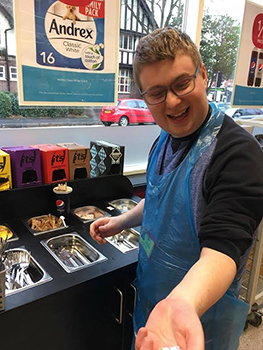 David was a Preparation for Life (PFL) student when he supported the Kitchen at a Co-op store located in Stirchley for one morning every week. David helped with tasks such as washing up, filling and emptying the dishwasher as well as clearing and cleaning tables. David was also fully supported by a member of staff from the College throughout his placement.
David loved his placement from the very first minute he started. During his time there, David was extremely polite, keen to help and very excited to get to work each week.
The Café Manager has said David was 'the perfect person for the job, always smiling and a pleasure to have here at co-op'.
Having responded so well to his work experience placement David progressed onto a Supported Internship programme working two days a week at the Co-op Café and continuing his studies in College for three days.
What the students say
My course has helped me to learn new things about different sports. It makes me feel good and it will put me in a good position to find a job in the future!
Dan - 20
LEAP (Learning, Employment and Progression) Student