Visitor Information
QAC would like to welcome you to Sight Village South-East.
We are delighted to be returning to Kensington Town Hall again this November. The Roadshow allows visitors to come and find out more about the latest technology, equipment and support services available to people who are blind or partially-sighted. If you or a family member have a visual impairment it could be of great help to visit the show. We also welcome a wide range of professionals that support people with visual impairments and businesses looking to better meet the needs of their employees and customers.
This year's exhibition will take place on Tuesday 8th November.
Entry is free to all QAC Sight Village events.
Refreshments will be available for purchase throughout the event.
We look forward to seeing you at Sight Village South-East 2022.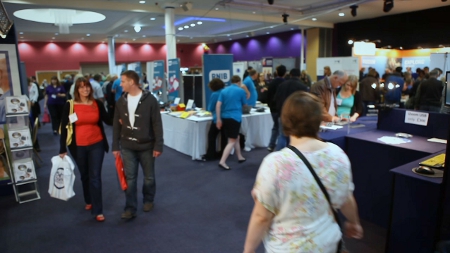 Guide Dogs
QAC Sight Village welcomes guide dog users. There will be a dedicated spending area and water available.
Sighted guides
If you require help navigating around the exhibition we hope to have a number of volunteers available to act as sighted guides. Please keep visiting this page throughout the year to check on our progress in recruiting volunteers.
Pre-show queries
QAC Sight Village is organised by Queen Alexandra College. If you have an enquiry about Sight Village South-East, please do not hesitate to contact us.
You can email us at: sv@qac.ac.uk, phone us at: 0121 803 5484 or write to us at: QAC Sight Village, Court Oak Rd, Harborne, Birmingham, B17 9TG. We will do our best to answer your query promptly.
Feedback
After the show you are invited to email us with your suggestions on how we can improve the event.
Email us at sv@qac.co.uk
What the students say
I really enjoy my course because it offers me a good mix of theory and practical – it has also allowed me to experience new sports that I have never played before.
Conrad - 20
Sport and Sports Leadership Student