Sight Village Central
Sight Village Central
We are delighted to have confirmed dates for Sight Village Central this year. The two day event will take place on Tuesday 17th August and Wednesday 18th August at Cranmore Park Conference and Event Centre, Solihull, B90 4LE. The event is FREE to attend.
Pre-registration will be required and can be done via the links below or by emailing the organisers at sv@qac.ac.uk or calling one the team on 0121 803 5484.
Please note we are experiencing problems with our website and are not receiving some emails sent via the link on this page. We would recommend that you type the email address; sv@qac.ac.uk and not use the hyperlink at this time. If you have sent an email via the website since Friday 19th March please resend using the method above. We apologise for any inconvenience caused. Hopefully, this will be rectified soon.
Pre-register for Tuesday 17th August here
Pre-register for Wednesday 18th August here
We advise against booking non-refundable accommodation and travel at this time as the venue is currently under review. We will keep all pre-registered visitors updated.
Please take a moment to read our COVID-19 Secure Protocols which can be found by clicking the following link: Covid Secure
In order for us to evaluate expected visitor numbers at our person to person Sight Village events planned in 2021, we would like to find out your views and invite you to let us know if you are planning to attend an event by completing our short survey here
We look forward to being back on the road and seeing you all again soon.
---
Sight Village Central takes place at Cranmore Park Conference and Events Centre and is FREE to visit.
For information about how to get to the venue, please follow the link below or call one of the team on 0121 803 5484 - we are happy to help!
The venue has great transport links and is easily accessible, so to find out how to get to Cranmore Park please click here. If you require this information in an alternative format, please do let us know by calling
0121 803 5484 or email sv@qac.ac.uk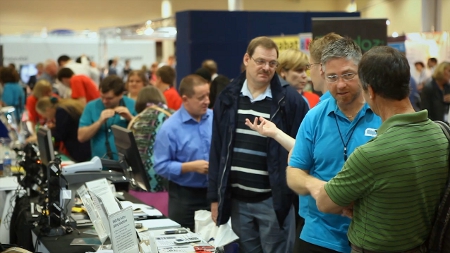 What the students say
I love QAC! It has allowed me to make many great friends and the staff are always willing to support me with anything I want to achieve.
Kevin - 19
Performing Arts Student