News Archive March 2014
2022
January | February | March | April | May | June | July | August | September | October | November | December |
2021
January | February | March | April | May | June | July | August | September | October | November | December |
2020
January | February | March | April | May | June | July | August | September | October | November | December |
2019
January | February | March | April | May | June | July | August | September | October | November | December |
2018
January | February | March | April | May | June | July | August | September | October | November | December |
2017
January | February | March | April | May | June | July | August | September | October | November | December |
2016
January | February | March | April | May | June | July | August | September | October | November | December |
2015
January | March | April | May | June | July | August | September | October | November | December |
2014
January | February | March | May | June | July | August | September | October | November | December |
2013
March | July | September | October | December |
---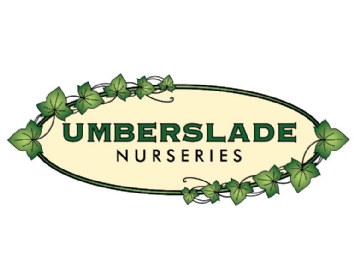 31 March 2014
Umberslade Nurseries is now open to the public with a range of plants and garden sundries available to buy in the retail shop. The site, located in Selly Oak, was previously occupied by Birmingham Rathbone. Umberslade Nurseries measures just over an acre in size and consists of five large polytunnels...
---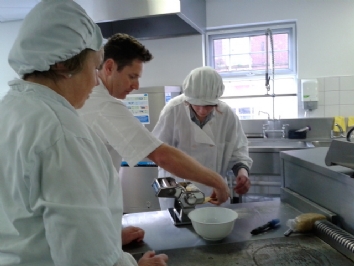 27 March 2014
Local Chef and QAC supporter, Steve Love, took time out of running his restaurant to deliver a pasta making workshop to our Level 2 and Short Course Hospitality students this week. Steve returned to Coffee Junction, which he opened earlier in the year, to share his culinary expertise in the training kitchen. ...
---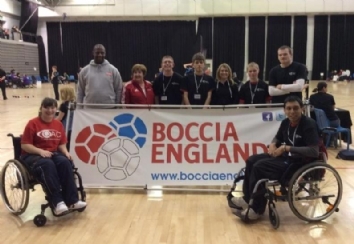 19 March 2014
Following a successful volunteering work placement officiating boccia at the Birmingham School Games, six of our Sport students were invited by Boccia England to officiate at this year's Disability Sport Events (DSE) Boccia Championships. The event took place at Ponds Forge International Sports Centre in...
---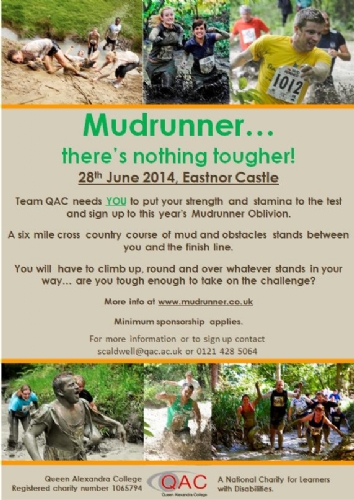 07 March 2014
Team QAC needs YOU to put your strength and stamina to the test and sign up for this year's Mud Runner Oblivion. Taking place on Saturday 28 June 2014 at EastnorCastle in Herefordshire Mud Runner Oblivion comprises of a six mile cross country course of mud and obstacles. More info at www.mudrunner.co.uk ...
---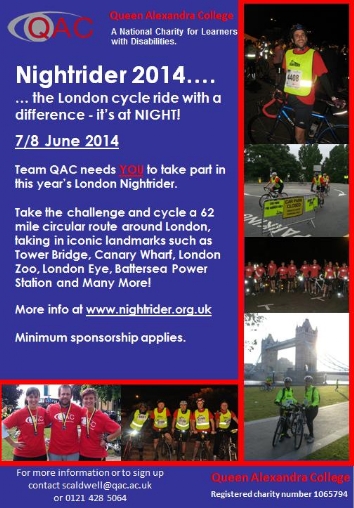 06 March 2014
Fancy a cycle ride with a difference? Join Team QAC and cycle a 62 mile circular route around London's iconic landmarks at NIGHT! Nightrider 2014 will be taking place on the evening of Saturday 7June and the morning of Sunday 8 June 2014 More info at www.nightrider.org.uk Minimum sponsorship applies....
---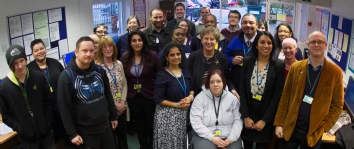 03 March 2014
Edgbaston MP, Gisela Stuart, recognised the commitment of people with disabilities to gaining employment when she visited the Birmingham base of the national Advance2work project recently. Although under threat from government cutbacks, A2W achieves outstanding results in helping disabled adults find and keep jobs....
What the students say
My travel training sessions at QAC have helped me to become more independent and access my local community.
Ben - 18
Creative Media Production Student