Revolution Advantage Graphite Canes

Covid-19 Update:
We are now able to process cane orders and would ask that you email your order or enquiry to enquiries@qac.ac.uk in the first instance. Once your email has been received, one of the team will contact you to arrange payment and delivery.
QAC is proud to be the sole importer of Revolution Advantage canes into the UK. We supply to a range of organisations (social services, rehabilitation teams, etc) and also sell direct to the end user.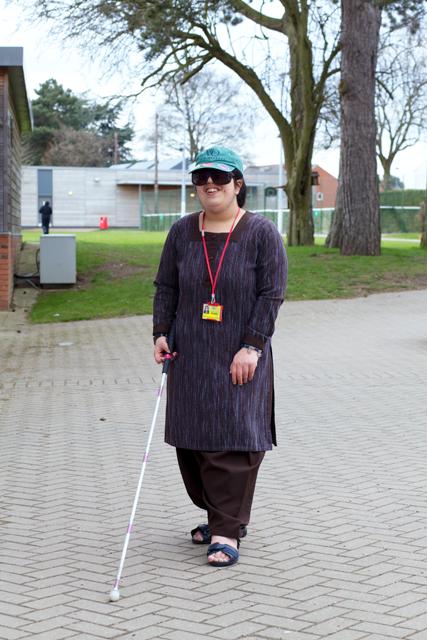 Advantage Graphite Canes have several benefits over traditional canes:
Light Weight: but stronger, more rigid and more durable than aluminium.
Greater Sensitivity: Graphite fibres transmit superior "feel".
Longer Life: more than twice that of aluminium canes.
Flexibility and Rigidity: provides excellent support - but will flex and return to straight unlike aluminium which remains bent.
Highly Reflective: be seen at night for your safety.
Twelve Month Warranty - with proof of purchase.
Impact absorbing shock rings at each joint for improved feel and wear.
Best Overall Value: low cost, high quality, user friendly cane.
Advantage graphite canes are designed to achieve optimum balance for ease of use and comfort. At 90cm, the Advantage cane weighs only 216 grams.
Quality Advantages
Graphite will not corrode.
A rubber grip combined with an elastic loop wrist strap for safety.
Precision ground joints do not stick and become difficult to fold.
Queen Alexandra College can supply the following canes:
Collapsible Cane
Rigid Cane
Child's Cane
Symbol Cane
Support Cane
Telescopic Cane
The Advantage Graphite Cane can be supplied with a variety of different tips these include:
Standard pencil tips
Metal tips
Teardrop tips
Standard Roller tips
Jumbo Roller
Measuring a cane:
When working out what size you require, the basic rule is to measure from the floor up to the mid of the breastbone. Please note that the Jumbo Roller will add around 8-9cm to the overall length of the cane with all other tips adding around 2-3cm, so please factor this in when ordering your size. For example a 120cm cane with a Jumbo Roller will measure approx 129cm from the handle to the end of the tip.
If you would like further information or if you would like to order an Advantage Graphite Cane then please telephone 0121 428 5041. Alternatively you can e-mail us at enquiries@qac.ac.uk
Carbon Fibre Telescopic White Cane
This innovative design is ideal for a handbag or pocket and is 45" in length (approx 115cm). Each cane comes with its own case.
Coloured Canes
We are now able to supply long canes & symbol canes in a range of 5 different colours. For more information please see our colour list below.
PLEASE NOTE: as all coloured canes are made to order, they cannot be exchanged or refunded after sale has been completed unless the cane is faulty.
VAT will be charged to individuals unless a valid VAT exempt declaration has been completed and returned before the order is dispatched.
Please note all canes come with a 12 month warranty. Please keep hold of your receipt as proof of purchase.
Please state at the time of ordering if you require the tip to be fitted.
Orders can be placed by telephone, email or post.
Payment is accepted by Switch, Mastercard, Visa or Cheque.
Contact: Jenny Bryant or Karen Easthope at enquiries@qac.ac.uk
"I love that I can personalise my cane!"
"My name is Aneeba. Due to having Moon Bardet Biedl Syndrome, I have always been a long cane user. Queen Alexandra College has always been really helpful and efficient every time I have needed a new cane, help or advice. I use Revolution Carbon Fibre canes as they are extremely lightweight and I love how you can personalise them with various colours." Aneeba A.
"Advantage Carbon Fibre canes are lightweight and easy to fold."
"The Revolution canes are lightweight, therefore the hand does not tire and does not snag on anything when walking. They fold and unfold easily compared to aluminium canes, especially in the winter. The carbon fibre joints prevent them from sticking." - Mr Moody
'Advantage Carbon Fibre canes are lightweight and durable.'
"I have been a cane user for over 30 years. Most canes I have used have been heavy and clunky and would fall apart every few months.
Advantage Carbon Fibre canes are different. They are durable, well made, lightweight and thanks to their jumbo roller tip option, you can roll, rather than tap your cane from side to side. That means you always keep contact with the ground in front of you in order to gain important information such as changes in the surface you are approaching.'
There is often a stigma attached to using a cane, especially with young people or those who are recently Visually Impaired so having colour options for your cane can support overcoming the stigma and give people the confidence they need to embrace cane use and become more independent." - Paul H.
Downloads related to this article:
What the students say
I enjoy the calm and friendly environment at QAC as well as the welcoming staff and students, making the College feel like a happy home!
Jordan - 19
Information and Communication Technology Student