Corporate & Community Support
QAC is proud to have strong links with the local community, with individuals, groups and businesses wanting to get involved in working with us and our students.
A HUGE thank you to everyone who supports us with our work, some of whom are mentioned below.
Please get in touch with us if you would like to know more about how you can get involved, 0121 803 5487 or fundraising@qac.ac.uk
Cash donations can make a huge difference to our fundraising efforts, particularly where specific projects are concerned.
Harborne based Metro Real Estate Group support a number of local charities and have decided to support QAC too. They have donated £2500 to our after college clubs project, which will support the costs of running the clubs during the 2020 academic year and also donated to our festive fundraising appeal in December.
A big thank you to Zurich Community Trust who not only donated £500 towards our festive fundraising appeal in December 2020, but also donated around £500 worth of items from our Amazon Wishlist, for groups and activities across College including our library, Sensory and Speech & Language teams.
Members of the local Soroptimist International branch have supported us for a number of years now, donating to student citizenship projects and the end of year student awards. As the group unfortunately came to a close, they still continued their support donating to another citizenship project and funding the individual student awards for another three years.
Students and staff at King Edward's School hosted a students vs teachers football match, raising £200 for QAC! The event was organised by one of their students, David, who was keen to support us, as his brother is one of our PFL students, with the students' team win an added bonus!
Our friends at Waitrose Harbone often support our events and regularly include us in the Community Matters green token scheme, giving members of the public the opportunity to support us by voting!
In-kind, or product donations are another way companies can support us, with donations helping a range of student activities take place.
First Corporate Clothing, Slaters and Buttercups Uniforms have donated suits, uniforms and workwear for our Supported Interns group of students.
Hansons Garden, Prongcroft, Globus Gloves, Granite Workwear and Taylors Bulbs have enabled groups to get involved in gardening and horticulture projects at QAC and Umberslade.
A range of other student activities have been made possible thanks to donations from Beatson Clark Glass, Plastics for Games, Workwear Express, Interior Landscaping Products, Simply Crackers, EGL Homecare, Edding, Staedtler and Artline.
Perhaps you work in a business or industry that can offer some in-kind support such as specialist advice or a guest workshop, or maybe you work somewhere that could offer product donations for student activities such as arts, crafts or gardening. If so then please get in touch with one of the fundraising team for a chat.
We love welcoming teams of employees to QAC and Umberslade for volunteering and experience days; they help us get things done, raise awareness about us and the groups have fun too.
The West Brom, Zurich, RBS and DWP regularly send groups to us, with volunteer activities incl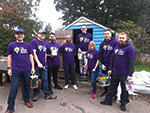 uding supporting student activities and getting their hands dirty with gardening and maintenance tasks at QAC and Umberslade.
We have also worked with teams from Cadent, ITP, Barclays and Lloyds as part of their CSR activities and look forward to working with them more.
Team volunteering is great fun and not only positively impacts our students, but also the individuals that get involved, this is just some of the feedback from happy corporate volunteers:
"The students are inspiring and the staff are fantastic. A humbling and uplifting experience."
"For me this was the best challenge we have ever done."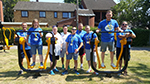 "It was the most amazing day! The young people face so many challenges on a daily basis but they are the most positive, respectful and friendly bunch of young people I have ever come across. I would return again tomorrow if I could!"
"I felt very privileged to be allowed to help the pupils/staff at the college. It made me appreciate life in general."
If you have a team of colleagues and are looking for a worthwhile challenge then please get in touch on 0121 803 5487 or fundraising@qac.ac.uk.
Another way companies can support us and our students is through offering work placement and supported internship opportunities, which can vary in length and duration. We also welcome support with CV and interview skills activities, working with students on their employability skills. If this is of interest and something you could help with then contact Eudene and the Employment Pathways team on egriffith@qac.ac.uk.
What the students say
QAC is fantastic, I love going to College every day and seeing my friends. Performing Arts has helped me to push myself and try new things out of my comfort zone!
Connor - 21
Performing Arts Student