Corporate Supporters
QAC is proud to have strong links with local businesses who get involved in working with us and our students, in various ways. Please get in touch with us if you would like to know more about how you can get involved, 0121 428 5064 or fundraising@qac.ac.uk
We love welcoming teams of employees to QAC and Umberslade for volunteering and experience days; they help us get things done, raise awareness about us and the groups have fun too.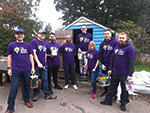 Employees from The West Brom have taken part in various tasks across QAC and Umberslade sites, always happy to get their hands dirty, whatever the weather.
The Community 10,000 Volunteers programme gives DWP employees opportunities to volunteer locally and through this we have welcome many staff to QAC and Umberslade, with lots coming back more than once as they enjoy working with us so much.
Three RBS teams took time away from the office to help the team at Umberslade with various gardening and paining tasks, with one person getting super creative and designing a living mural and our Hospitality students have enjoyed hosting special coffee mornings for them.
As part of vulnerable customer awareness, teams from Barclays have worked with students on their gardening skills as well as financial and numeracy skills through their LifeSkills programme.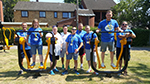 Zurich Insurance have been supporting us through their Zurich Cares programme for a number of years, with teams coming out to garden, paint and work with students, as well as organising various collections for us. They've also supported employees taking part in our skydive, awarding matched funding for their bravery.
Team volunteering not only impacts our students, but also the individuals that get involved, this is just some of the feedback from happy corporate volunteers:
"An early start with over six hours travelling during the day, but well worth it. The students are inspiring, and the College facilities and staff are fantastic. A humbling and uplifting experience."
"For me this was the best challenge we have ever done. The staff and pupils made me feel most welcome and their attitude and approach left me humble and inspired."
"It's important to have a better understanding about what these charities do for our communities, and a contribution by way of a helping hand is another way we can support."
"It was the most amazing day! The young people face so many challenges on a daily basis but they are the most positive, respectful and friendly bunch of young people I have ever come across. They really do care for one another and the sense of community is really strong. I would return again tomorrow if I could!"
"I felt very privileged to be allowed to help the pupils/staff at the college for their sports day event. It made me appreciate life in general."
Perhaps you work in a business or industry that can offer some in-kind support such as specialist advice and support, or guest workshops in some of our specialist programmes? Or maybe you work somewhere that could offer product donations for student activities such as arts, crafts or gardening. If so then get in touch with one of the fundraising team for a chat.
Another way companies can support us and our students is through offering work placement and supported internship opportunities, which can vary in length and duration. We also welcome support with CV and interview skills activities, working with students on their employability skills. If this is of interest and something you could help with then contact Chrissy and the Employment Pathways team on csadik@qac.ac.uk
What the students say
The College environment is very inclusive and extremely welcoming – it almost feels like a second home to me.
Kaseem - 20
Supported Internships Student