Virtual Summer Fun Day
The month of June usually sees us gearing up to our Annual Summer Fete, which takes place here at QAC. Obviously, this year things are very different and unfortunately the fete won't be happening this year - well not as we know it anyway!
BUT, we are doing something...
Saturday 27th June will now be the day of QAC's Virtual Summer Fun Day, and we want you to be involved – so pop the date in your diaries now!
We will be sharing lots of ideas for ways that you can be involved over the next few weeks, including a downloadable 'Fun Day Pack'. Students and staff are also putting together a range of videos to keep you entertained and help you make your own decorations, games and food for the day itself which we will be sharing across our social media and here on our website.
Our Summer Fete is always popular with students, staff, families and supporters and our Virtual Summer Fun Day is an opportunity for everyone to still have some fun and support us in the process.
The day is not about raising huge amounts of money, but all donations will be very much welcome and can be made here. As a charity, the cancellation of events over the spring/summer period has seriously impacted our fundraising, delaying some student projects from happening so every little helps.
You will also be able to support the event by getting involved and sharing photos of what you're doing on your social media using the hashtag #QACVirtualSummer, or you can email fundraising@qac.ac.uk to let us know.
In the meantime, please keep checking this website page and our social media channels (Facebook and Twitter) for updates and ideas.
What the students say
QAC has helped me accept myself and grow my skills in many areas, including Art and Design. I've achieved many milestones here that I never thought possible!
Beth - 19
Art and Design Student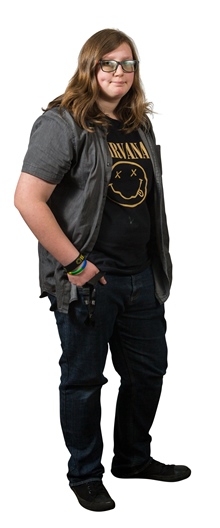 Latest News