Courses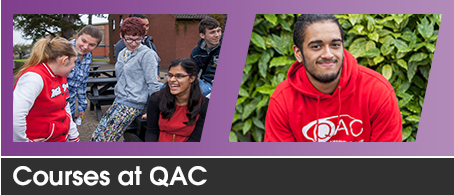 QAC offers a wide range of courses in a safe and friendly environment to suit all levels of ability and many different interests. Whatever course you choose, you will be encouraged to stretch yourself and enjoy achieving good results. Wherever your learning takes place there will be plenty of support and chances to develop your Key Skills.
Making sure that your course information is accessible to you and that you are at the centre of the learning is really important at QAC. We encourage learners to let us know what they think of the way they are taught and their experience at College so that we can continue to improve the QAC experience.
All residential courses provide learning opportunities outside the classroom through social, leisure and sporting activities. This helps you to contribute to College life and to the community outside College. It also helps you to develop social and independence skills for your successful future.
Although every effort is made to ensure that the all the information contained in this web site including the course information is accurate and up to date, QAC reserves the right to make changes necessary, as circumstances may occasionally require, in relation to any of the details shown. Please check course details with us prior to enrolment. This web site cannot be considered contractual.
What the students say
QAC is the best place ever and it makes me feel happy! I have made friends here and I get lots of support from my tutor and all the LSAs on my course.
Lucy - 19
Health and Social Care Student