News Archive
2018
January | February | March | April | May | June | July | August | September | October | November | December |
2017
January | February | March | April | May | June | July | August | September | October | November | December |
2016
January | February | March | April | May | June | July | August | September | October | November | December |
2015
January | March | April | May | June | July | August | September | October | November | December |
2014
January | February | March | May | June | July | August | September | October | November | December |
2013
March | July | September | October | December |
---
28 November 2018
We recently welcomed a team of employees from Tac-Grid to QAC to work with staff and students, demonstrating their new smart cane and tac-grid system! The students enjoyed an interactive session in using the cane and learning about its functions, as well as how in the near future it can help them to travel...
---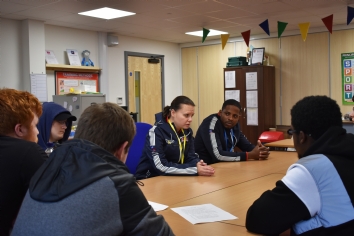 23 November 2018
Yesterday we welcomed Team UK The Invictus Games Foundation athlete Kelly Ganfield to QAC to speak to students and staff. Kelly was joined by QAC Patron Mikail Huggins who works with her as a guide runner and coach.
---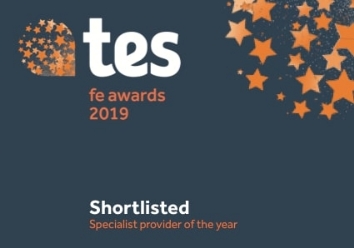 20 November 2018
QAC is delighted to inform that it has been shortlisted for the Specialist provider of the year category in the 2019 Tes FE Awards. The complete shortlist was formally announced at the AoC conference gala dinner on Tuesday 20 November 2018. A shortlist feature will also appear in
---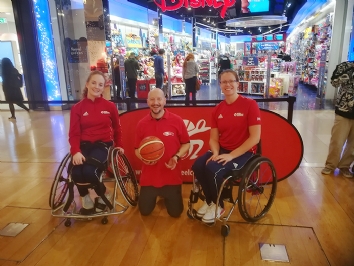 16 November 2018
Tuesday 13th November was Purple Tuesday, the UK's accessible shopping day. The aim of the day was to make customer-facing businesses more aware of opportunities and challenges for disabled people and inspire them to make changes to improve the disabled customer experience over the long term.
---
15 November 2018
Our residential students had a very busy October. All students in residential and those on our Independence Plus programme came together and organised a show stopper of a party. ...
---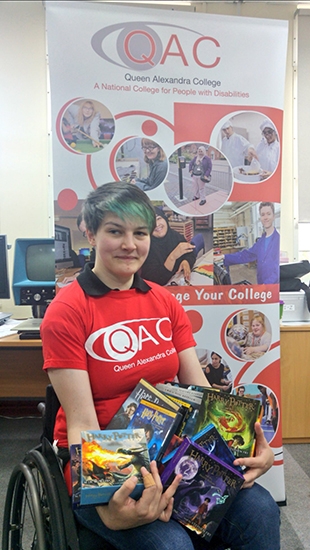 25 October 2018
We'd like to extend our thanks to J.K. Rowling and team for donating a range of Harry Potter DVDs and audio books to our college library!
---
25 October 2018
Recently, 11 of our Visually Impaired students took part in a Music Arts Award, delivered by The OHMI Trust, gaining a certificate from Trinity College London! The OHMI Trusts objectives are to remove barriers to music making faced by physically disabled people and to enable undifferentiated...
---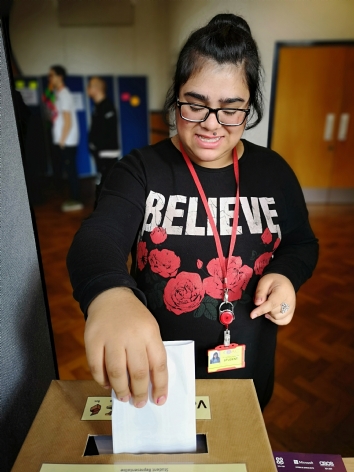 19 October 2018
This year, Queen Alexandra College joined in the efforts of Colleges Week, a week aimed at raising the profile of the amazing work colleges accross the UK do, as well as the struggles they face with funding cuts and a lack of government support. As well as highlighting the various issues faced by...
---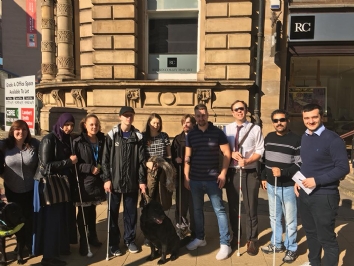 18 October 2018
Recently, some of our students and staff were involved with the Birmingham Sight Loss Council's consultation on the development of the Birmingham Snow Hill area! The Birmingham Sight Loss Council hosted a "blindfold walk" for the developers including an architect from Broadway Malyan and an...
---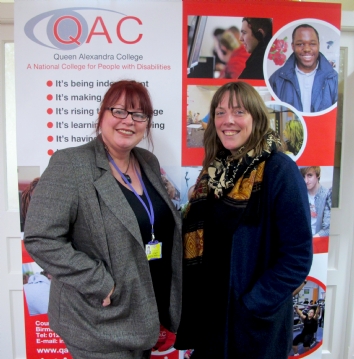 16 October 2018
On Friday 12th October 2018, we were pleased to welcome Jess Phillips, the Labour MP for Birmingham Yardley, to QAC. Jess's visit to the college coincided with #CollegesWeek, and because QAC takes on a number of students from the Birmingham Yardley constituency, Jess was keen to learn more about how we support our...
What the students say
Being a residential student has really helped me to become more independent – I do my own washing and I can cook with a bit of help from staff.
Amy - 21
Powerchair Football and Further Education Programme Student