News Archive
2020
January |
2019
January | February | March | April | May | June | July | August | September | October | November | December |
2018
January | February | March | April | May | June | July | August | September | October | November | December |
2017
January | February | March | April | May | June | July | August | September | October | November | December |
2016
January | February | March | April | May | June | July | August | September | October | November | December |
2015
January | March | April | May | June | July | August | September | October | November | December |
2014
January | February | March | May | June | July | August | September | October | November | December |
2013
March | July | September | October | December |
---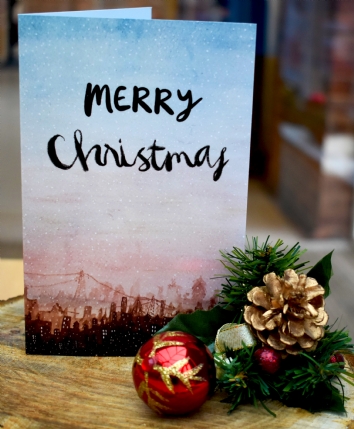 02 December 2019
Congratulations to Bethany , one of our very talented Art and Design students, for having her design selected for use on the QAC Christmas card. We recently ch a llenged some of our students to create a design to be considered for use on our corporate Christmas car
---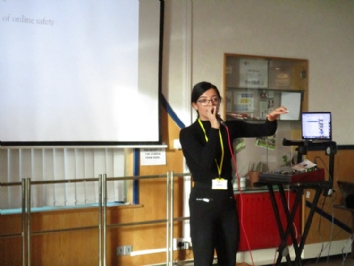 25 November 2019
Last week, QAC were lucky enough to welcome local singer/songrwriter AmyG to college in order to speak to students and staff and perform some fantastic songs. <
---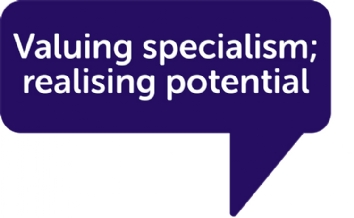 20 November 2019
Natspec, the membership association for organisations which offer specialist further education and training for students with learning difficulties and/or disabilities, have yesterday published their manifesto for the 2019 General Election, in which they outline the support they'd like to see for the education...
---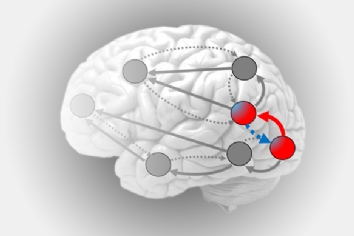 15 November 2019
Queen Alexandra College students recently assisted researchers at Aston University with their case study looking into how the differences in sensory brainwaves of teenagers with autism can assist in earlier diagnosis! The study "...focused on sensory areas of the brain because a substantial number of...
---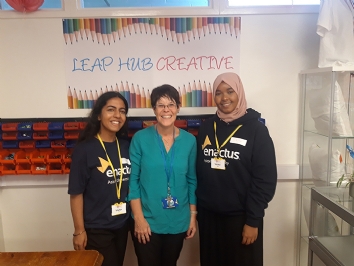 28 October 2019
This year, our LEAP Creative group are excited to be working with a group of students from Enactus Aston on a collaborative enterprise project, making and selling a range of things over the next few months, with profits being used to support local charities as well as their own activities. Their...
---

21 October 2019
Following on from the success of last year's 'Love Our Colleges' campaign, QAC dedicated 14-18 October to Colleges Week 2019 and highlighted the amazing work colleges do and why long-term term investment is crucial for our future. Colleges Week is part of the 'Love Our...
---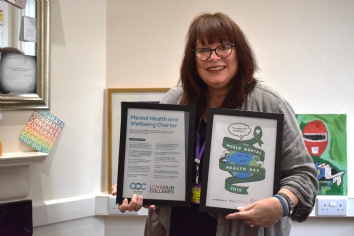 10 October 2019
As today is World Mental Health Day, we'd like to highlight the importance of mental wellbeing and the impact mental health can have on a person's general health. With that in mind, QAC is committed to improving our mental health support for students and staff alike and thus we have signed up to...
---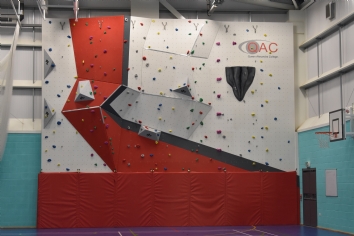 16 September 2019
Over the past few weeks, EP Climbing Walls have been working tirelessly to install our brand new climbing wall in our Sports Hall, which was made possible as the result of a successful fundraising campaign. The wall, almost 8 metres tall with over 20 different climbing routes, will be used as part of...
---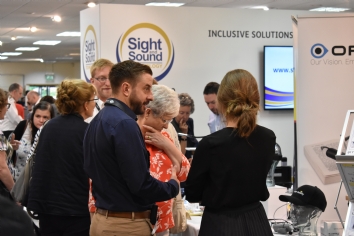 01 August 2019
The recent Sight Village Central event has once again been an incredible success. We were delighted to welcome over 1400 visitors over the two days of the exhibition. The brilliant range of exhibitors was also greatly received by our visitors, with very useful, interesting and innovative services and technologies on...
---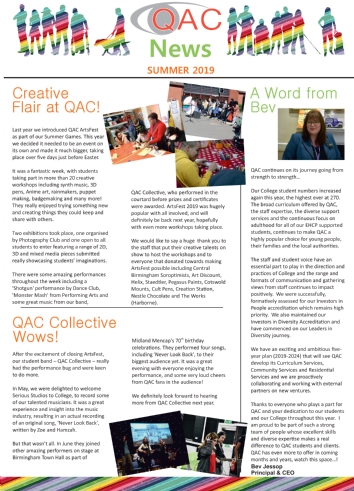 16 July 2019
QAC News, our external college newsletter, is now available to download for Summer 2019. If you require this information in an alternative format please contact us.
What the students say
QAC is a good place to be and I'd recommend the College to anyone thinking about attending.
Nathan - 20
Preparation for Life Student