News Archive December 2013
2020
January | February | March | April | May |
2019
January | February | March | April | May | June | July | August | September | October | November | December |
2018
January | February | March | April | May | June | July | August | September | October | November | December |
2017
January | February | March | April | May | June | July | August | September | October | November | December |
2016
January | February | March | April | May | June | July | August | September | October | November | December |
2015
January | March | April | May | June | July | August | September | October | November | December |
2014
January | February | March | May | June | July | August | September | October | November | December |
2013
March | July | September | October | December |
---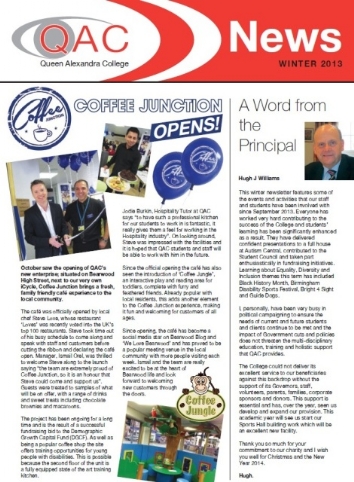 16 December 2013
QAC News, our external college newsletter for winter 2013, is now available to download. If you require this information in an alternative format please contact us.
What the students say
QAC has helped me to be more confident, independent and make my own choices and decisions. I have also gained valuable work experience!
Shamaila - 21
Health and Social Care Student