News Archive October 2014
2022
January | February | March | April | May | June | July | August | September | October | November | December |
2021
January | February | March | April | May | June | July | August | September | October | November | December |
2020
January | February | March | April | May | June | July | August | September | October | November | December |
2019
January | February | March | April | May | June | July | August | September | October | November | December |
2018
January | February | March | April | May | June | July | August | September | October | November | December |
2017
January | February | March | April | May | June | July | August | September | October | November | December |
2016
January | February | March | April | May | June | July | August | September | October | November | December |
2015
January | March | April | May | June | July | August | September | October | November | December |
2014
January | February | March | May | June | July | August | September | October | November | December |
2013
March | July | September | October | December |
---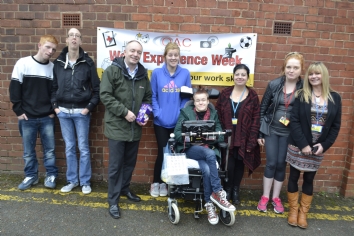 28 October 2014
This year saw the first work experience week held at Queen Alexandra College (QAC) in conjunction with NATSPEC and Fair Train. It's intention was to raise the profile and importance of work experience to both student's and employers. Over 12 organisations got involved with the week including Hobby Craft, Alexander...
---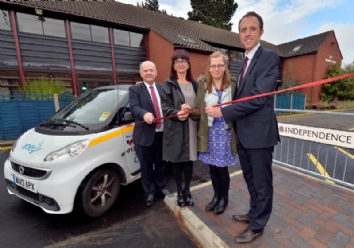 06 October 2014
Students at Queen Alexandra College (QAC) will benefit from a new and unique training facility named 'Independence Street'. The travel training site is designed to assist students to safely negotiate the street environment, including road crossings, dropped kerbs, street light columns and other street...
---
01 October 2014
This October is 'Get Involved Month' at Queen Alexandra College (QAC). There will be lots going on throughout the month including Bright 4 Sight, Baking Week and Work Experience Week. We look forward to working with organisations including Barclays Wealth, Co-Operative Energy, Pertemps PDG, DWP,...
What the students say
I enjoy being able to create new animations and drawings – it makes me feel happy. The support given to me by staff is really helpful.
Harvey - 16
Art and Design Student