News Archive August 2016
2020
January | February | March | April | May | June | July |
2019
January | February | March | April | May | June | July | August | September | October | November | December |
2018
January | February | March | April | May | June | July | August | September | October | November | December |
2017
January | February | March | April | May | June | July | August | September | October | November | December |
2016
January | February | March | April | May | June | July | August | September | October | November | December |
2015
January | March | April | May | June | July | August | September | October | November | December |
2014
January | February | March | May | June | July | August | September | October | November | December |
2013
March | July | September | October | December |
---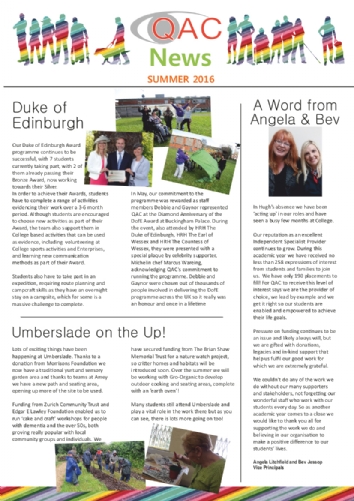 01 August 2016
QAC News, our external college newsletter, is now available to download for Summer 2016. If you require this information in an alternative format please contact us.
What the students say
Being a residential student has really helped me to become more independent – I do my own washing and I can cook with a bit of help from staff.
Amy - 21
Powerchair Football Academy Student