News Archive February 2018
2021
January | February | March | April |
2020
January | February | March | April | May | June | July | August | September | October | November | December |
2019
January | February | March | April | May | June | July | August | September | October | November | December |
2018
January | February | March | April | May | June | July | August | September | October | November | December |
2017
January | February | March | April | May | June | July | August | September | October | November | December |
2016
January | February | March | April | May | June | July | August | September | October | November | December |
2015
January | March | April | May | June | July | August | September | October | November | December |
2014
January | February | March | May | June | July | August | September | October | November | December |
2013
March | July | September | October | December |
---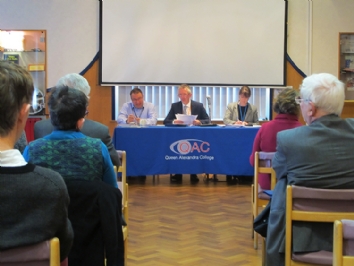 26 February 2018
Queen Alexandra College (QAC) provided people with the opportunity to learn more about the organisation, its progress over the last year and its future plans at the charity's annual general meeting held on Monday 26th February 2018. Vice-Chair of Governors, Ian Richards, welcomed visitors to the...
What the students say
The atmosphere at College is very friendly. My course has provided me with a wealth of knowledge and put me in a good position to find employment in the future!
Nakeisha - 20
Information and Communication Technology Student