News Archive August 2018
2022
January | February | March | April | May | June | July | August | September | October | November | December |
2021
January | February | March | April | May | June | July | August | September | October | November | December |
2020
January | February | March | April | May | June | July | August | September | October | November | December |
2019
January | February | March | April | May | June | July | August | September | October | November | December |
2018
January | February | March | April | May | June | July | August | September | October | November | December |
2017
January | February | March | April | May | June | July | August | September | October | November | December |
2016
January | February | March | April | May | June | July | August | September | October | November | December |
2015
January | March | April | May | June | July | August | September | October | November | December |
2014
January | February | March | May | June | July | August | September | October | November | December |
2013
March | July | September | October | December |
---
22 August 2018
A variety of changes have been made to our campus over the Summer period in order to create more space for our students from September! The changes put in place allow us to maintain the high level of support we provide for our students, whilst our student profile is constantly changing and expanding. B108, a...
---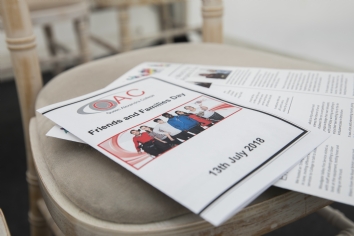 10 August 2018
On July 13th, our staff, students and their families once again gathered for the annual "Friends and Families Day", highlighting the students' achievements over the past year, as well as a chance to formally congratulate and wish our leavers the best of luck for the future! The day is a great occasion for our...
What the students say
QAC is the best place ever and it makes me feel happy! I have made friends here and I get lots of support from my tutor and all the LSAs on my course.
Lucy - 19
Health and Social Care Student