News Archive September 2019
2022
January | February | March | April | May | June | July | August | September | October | November | December |
2021
January | February | March | April | May | June | July | August | September | October | November | December |
2020
January | February | March | April | May | June | July | August | September | October | November | December |
2019
January | February | March | April | May | June | July | August | September | October | November | December |
2018
January | February | March | April | May | June | July | August | September | October | November | December |
2017
January | February | March | April | May | June | July | August | September | October | November | December |
2016
January | February | March | April | May | June | July | August | September | October | November | December |
2015
January | March | April | May | June | July | August | September | October | November | December |
2014
January | February | March | May | June | July | August | September | October | November | December |
2013
March | July | September | October | December |
---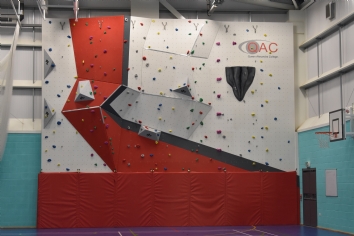 16 September 2019
Over the past few weeks, EP Climbing Walls have been working tirelessly to install our brand new climbing wall in our Sports Hall, which was made possible as the result of a successful fundraising campaign. The wall, almost 8 metres tall with over 20 different climbing routes, will be used as part of...
What the students say
QAC is fun and the staff are really caring. My College programme is helping me to work towards my dream job in the future, a care worker for young people.
Megan - 18
Health and Social Care Student