News Archive September 2020
2022
January | February | March | April | May | June | July | August | September | October | November | December |
2021
January | February | March | April | May | June | July | August | September | October | November | December |
2020
January | February | March | April | May | June | July | August | September | October | November | December |
2019
January | February | March | April | May | June | July | August | September | October | November | December |
2018
January | February | March | April | May | June | July | August | September | October | November | December |
2017
January | February | March | April | May | June | July | August | September | October | November | December |
2016
January | February | March | April | May | June | July | August | September | October | November | December |
2015
January | March | April | May | June | July | August | September | October | November | December |
2014
January | February | March | May | June | July | August | September | October | November | December |
2013
March | July | September | October | December |
---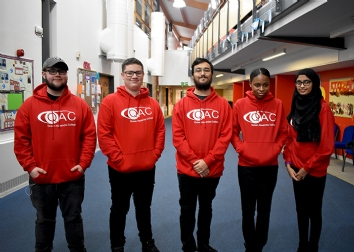 14 September 2020
Book your 1:1 visit today! Covid-19 has made it difficult for us to offer our usual open day events to show prospective students and their parents/carers around our campus. Short informal 1:1 campus visits via designated timeslots during term time are now available to book for individual, small family...
---

10 September 2020
Our second issue of Sight Village News is now available to read; bringing you the latest news, information and updates from Sight Village Organisers and Exhibitors. If you have a good news story you would like to include in our next newsletter or if you require further advice about any of the...
What the students say
I enjoy the practical cooking sessions on my course. QAC has provided me opportunities to experience new things and develop skills that will help me to get a job!
Hannah - 21
LEAP (Learning, Employment and Progression) Student