Friends of QAC
Want to support QAC for a year, easily?
Then why not sign up and become a Friend.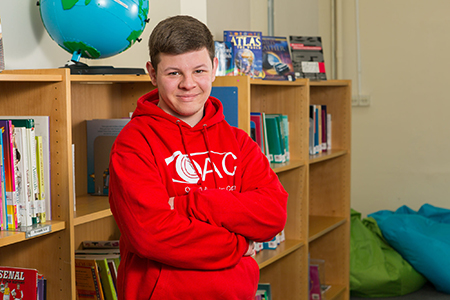 Friends of QAC is a simple, but effective, way of supporting us by making an annual donation and being recognised as one of our friends and valued supporters. By joining, you know you will directly impact our students and also get something in return.
Donation amounts depend on the friendship, but all are affordable.
£15 - ex-QAC student, QAC student, over 60, those with disabilities.
£20 - individual
£30 - couple / family (2 adults and up to 3 children)
The amounts may seem low, but they will have an impact on our fundraising efforts – either towards a current fundraising project or ongoing activities such as resources for our library and sensory provision. So that you feel even more part of QAC's journey, you will also have the opportunity to decide which project you would like to support when you join.
We really value your support and believe that all good friendships should be two way, and that's why as a Friend of QAC you will receive:
Badge (made by QAC students) and membership card to enable you to get your discounts for the year.
Tote bag, designed and made by QAC students.
Advanced notifications, invites and discounts for QAC fundraising events (including free entry to our Summer Fete and Craft Fayres, and discounts on ticketed events).
At least one dedicated Friends event each academic year.
Entry into a Friends prize draw at the end of the academic year.
External newsletters via email.
Key updates as to what is happening at QAC and what's coming up event wise.
QAC Calendar each December, featuring student artwork.
Discount on room and facilities hire (subject to availability and other requirements).
AGM invitation and copy of annual review.
The good news is, yes there's more good news, that it's really easy to sign up and become a Friend of QAC. All you need to do is download the form below, complete your details and send it back to us – either through the post or by email.
Alternatively, if you would like to speak to one of the team about it or have any questions, please email fundraising@qac.ac.uk and we will be happy to help and send you a form.
Downloads related to this article:
What the students say
Since being at QAC, I've realised I belong somewhere and I feel accepted! I've also made friends for life.
Brad - 21
Performing Arts Student