How You Can Support Us
As a charity, your support can really help make a huge different to our students and their experience, and there are many ways you can get involved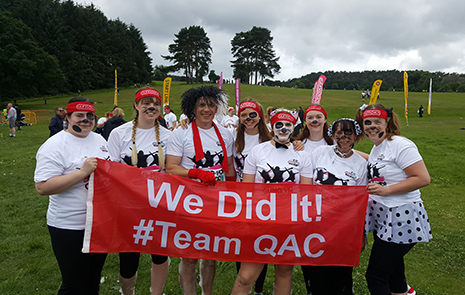 You can donate money to us in a number of ways, the easiest being online here Virgin Money Giving.
Alternatively you can donate by cash or cheque by handing it in at reception or sending it to us here: Fundraising Dept, QAC, 49 Court Oak Road, Harborne, Birmingham B17 9TG
If you would like your donation to go towards something specific then please let us know – take a look at our 'Fundraising Projects' page on the left for information about some of our current projects.
Another way to support us with a donation is by looking at our Amazon wishlist which you can find here: http://amzn.eu/fSh9qIP It contains a range of things for departments across College, which you can buy and get sent straight to us!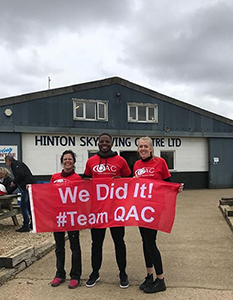 Take a look at our 'Fundraising Events' page to see what we've got coming up that you can get involved in, whether it's as part of Team QAC in a sponsored challenge, one of our community events or something else.
Or perhaps you would like to organise your own event to support us. If so then get in touch with a team and we'll help as much as we can.
Whether you're an individual or a team of friends, you can volunteer with us and make a difference. If you would like to know more about being a regular individual volunteer, please contact our HR Team on 0121 428 5014, or complete the volunteer application form below. For corporate team volunteering enquiries contact our Fundraising team on fundraising@qac.ac.uk or 0121 428 5064
Time and expertise can be really valuable to us; with the range of programmes and activities we offer students, the opportunity to invite guests in to share experience is really important. So if you have skills or experience you think could work well, please get in touch.
Alternatively, we run a number of exhibitions throughout the UK for blind and partially sighted people. We always need volunteers at these events to act as sighted guides for our visitors. If you feel that this is something that you would be interested in, please contact us at sv@qac.ac.uk
QAC Supporters' Packs
We've put together a Supporters Pack, full of information, advice and inspiration to help you on your fundraising journey. It also includes various forms to make donating as easy as possible. Download your copy of the Supporters' Pack below!
Downloads related to this article:
What the students say
QAC has helped me to be more confident, independent and make my own choices and decisions. I have also gained valuable work experience!
Shamaila - 21
Health and Social Care Student