Fundraising Events
We organise a range of events for people to get involved in throughout the year. From fetes and fayres to our popular Dinner in the Dark and adrenalin fuelled sponsored challenges, there's something to suit almost everyone.

If you have an idea for your own event or challenge then please get in touch and let us know about it - we love to hear what people are doing to support us!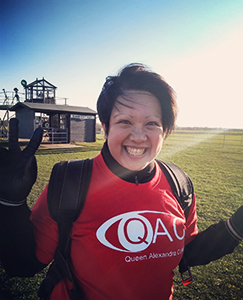 Take a look at the upcoming events below and if something takes your fancy contact the team for more information fundraising@qac.ac.uk or 0121 428 5064
We are busy working on a number of fundraising events for the year ahead and more information will follow here and on our social media pages in due course.
March Thru March
Don your trainers and join us as we march our way through March, hopefully with a spring in our step and smile on our faces!
There is no minimum sponsorship (you set your own target here too!), we just ask that you raise as much money as you can.
If you would like more information on getting involved then contact fundraising@qac.ac.uk or 0121 803 5487
What the students say
I enjoy all aspects of Powerchair Football. My course has really helped to build my confidence, making me much happier!
Luke - 17
Powerchair Football Academy Student