Fundraising Events
We organise a range of events for people to get involved in throughout the year. From fetes and fayres to our popular Dinner in the Dark and adrenalin fuelled sponsored challenges, there's something to suit almost everyone.

If you have an idea for your own event or challenge then please get in touch and let us know about it - we love to hear what people are doing to support us!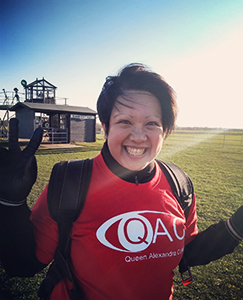 Take a look at the upcoming events below and if something takes your fancy contact the team for more information fundraising@qac.ac.uk or 0121 428 5064
We are busy working on a number of fundraising events for the year ahead and more information will follow here and on our social media pages in due course.
But for now, here are some dates for your diaries:
#QACBakes - 14-20th October
Christmas Events - more information on these coming soon, so keep checking back with us!
Do you fancy joining #TeamQAC and taking on a sponsored challenge? Whether it's an adrenaline filled challenge or more of an athletic mission then there should be something to suit!
There are a range of events, from running to cycling, beating obstacles to tackling heights, that take place up and down the country. Although we try and get places in some of the more local events, if there is a different one that takes your fancy that you want to sign up for, you can still support us!
If you would like more information on getting involved then contact fundraising@qac.ac.uk or 0121 428 5064
What the students say
The College environment is very inclusive and extremely welcoming – it almost feels like a second home to me.
Kaseem - 20
Supported Internships Student

Latest News