Fundraising Events
We organise a range of events for people to get involved in throughout the year. From fetes and fayres to our popular Dinner in the Dark and adrenalin fuelled sponsored challenges, there's something to suit almost everyone.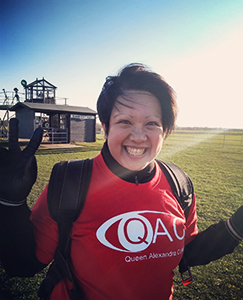 If you take on one of the sponsored challenges, not only will you become part of Team QAC but if it's a sporty or fitness challenge, we will also help you with your training to get you ready for it! If you've signed up to a sponsored event yourself and want to support us then get in touch, we can still help.
Take a look at the upcoming events below and if something takes your fancy contact the team for more information fundraising@qac.ac.uk or 0121 428 5064
May 11th – Wellbeing Afternoon; tips, demonstrations and treatments to help you live well in today's busy world.
May 13-17th - Bake and Make; don your apron and get baking to host a cake morning for us.
May 26th – Birmingham 10k; join thousands of other runners to pound the streets of this great Ciry as part of 'Team QAC'.
June 29th – Summer Fete; stalls, activities, local entertainment and dogs come together for our annual summer fete which takes place on our field and courtyard.
July 13th - Vintage Afternoon; a 1940's / 50's themed afternoon with live music, dance, stalls and refreshments, here at QAC
September 15th – Skydive; Join 'Team QAC' as you get your adrenalin pumping as you take to the skies and glide back down to earth.
October 4th – Sponsored Firewalk; psyche yourself up to walk the coals and not burn your toes.
October 14th-18th – Bake and Make; get your bake on for Baking Week and host a cake based event to support us.
November 21st – Dinner in the Dark; dining with a difference as you put all your senses to the test.
December, dates tbc – Christmas Fayre & Christmas Concert.
What the students say
Since being at QAC, I've realised I belong somewhere and I feel accepted! I've also made friends for life.
Brad - 21
Performing Arts Student