Fundraising Events
We organise a range of events for people to get involved in throughout the year. From fetes and fayres to our popular Dinner in the Dark and adrenalin fuelled sponsored challenges, there's something to suit almost everyone.

If you have an idea for your own event or challenge then please get in touch and let us know about it - we love to hear what people are doing to support us!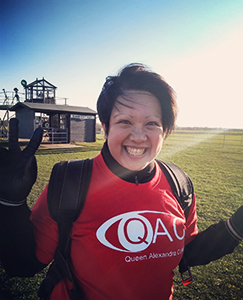 Take a look at the upcoming events below and if something takes your fancy contact the team for more information fundraising@qac.ac.uk or 0121 803 5337
We are working on a number of fundraising events for September onwards including Dinner in the Dark , Christmas Craft & Gifts Fayre and other events to name a few.
More information will follow in due course but we look forward to seeing you!
What the students say
QAC has helped me to be more confident, independent and make my own choices and decisions. I have also gained valuable work experience!
Shamaila - 21
Health and Social Care Student