Fundraising Events
We organise a range of events for people to get involved in throughout the year. From fetes and fayres to our popular Dinner in the Dark and adrenalin fuelled sponsored challenges, there's something to suit almost everyone.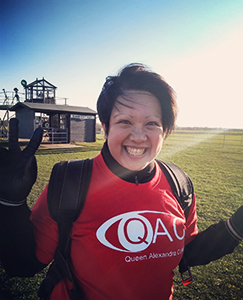 If you take on one of the sponsored challenges, not only will you become part of Team QAC but if it's a sporty or fitness challenge, we will also help you with your training to get you ready for it! If you've signed up to a sponsored event yourself and want to support us then get in touch, we can still help.
Take a look at the upcoming events below and if something takes your fancy contact the team for more information fundraising@qac.ac.uk or 0121 428 5064
September 15th – Skydive; Join 'Team QAC' as you get your adrenalin pumping as you take to the skies and glide back down to earth.
October 14th-18th – Bake and Make; get your bake on for Baking Week and host a cake based event to support us.
November 21st – Dinner in the Dark; dining with a difference as you put all your senses to the test.
November 30th - Christmas Craft & Gift Fayre; always popular, an opportunity to get some lovely, one of a kind Christmas gifts from some local crafters.
What the students say
Staff are very supportive and make my time at College fun! My independence and confidence has improved which makes me really happy.
Keeley - 21
LEAP (Learning, Employment and Progression) Student