News Archive August 2015
2020
January | February | March | April | May | June | July | August | September | October | November |
2019
January | February | March | April | May | June | July | August | September | October | November | December |
2018
January | February | March | April | May | June | July | August | September | October | November | December |
2017
January | February | March | April | May | June | July | August | September | October | November | December |
2016
January | February | March | April | May | June | July | August | September | October | November | December |
2015
January | March | April | May | June | July | August | September | October | November | December |
2014
January | February | March | May | June | July | August | September | October | November | December |
2013
March | July | September | October | December |
---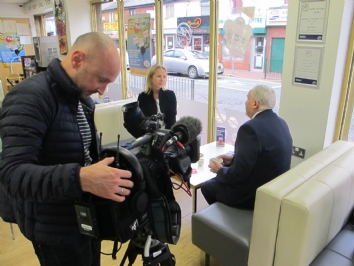 13 August 2015
Queen A lexandra College (QAC) was delighted to welcome Sandwell Councillor Bob Piper and BBC Special Correspondent Katie Razzall to our café in Bearwood for a cuppa while they completed a piece to camera in Coffee Junction.
What the students say
There's always plenty to do at QAC. I really enjoy my programme and the work involved, but also the opportunities for fun activities and socialising.
Michael - 19
Creative Media Production Student