Census 2021 Support Centres in and around Birmingham
Census Support Centres are open in and around Birmingham, providing support for anyone who needs support completing their questionnaire online in line with Covid-19 restrictions.
They provide access to the internet and to technology, such as computers and tablets, for those able to complete it independently. They also provide practical support and guidance on the questionnaire for those who need it.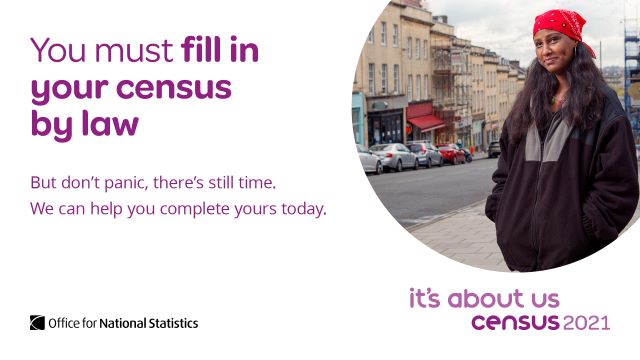 You can find the nearest Census Support Centre to you with this online postcode lookup tool here: https://census.gov.uk/en/find-a-support-centre/
You can read more about Census Support Centres at the Census 2021 website here: https://census.gov.uk/help/find-a-census-support-centre
You can read more about accessibility support information here: https://census.gov.uk/help/languages-and-accessibility
Local Census Support Centres in and around Birmingham:
Birmingham
Brasshouse Languages at Library of Birmingham,
Centenary Square, off Broad Street
Birmingham
B1 2ND
Telephone: 0121 303 4318
Email: sameena.asmat@birmingham.gov.uk
Sparkhill Centre
477 Stratford Road,
Sparkhill
Birmingham
B11 4LE
Telephone: 0121 303 4318
Email: sameena.asmat@birmingham.gov.uk
Living Well UK
Avoca Court
23 Moseley Road
Digbeth
Birmingham
B12 0HJ
Telephone: 080 0464 7440
Email: census2021@livingwellconsortium.com
CompTTEC
11 The Square,
111 Broad Street,
Birmingham
B15 1AS
Telephone: 0121 270 9475 / 0121 643 6069 / 0121 582 5484
Email: admin@compttec.org
Community Foundation
20 St. Silas Square,
Lozells,
Birmingham
B19 1QW
Telephone: 0121 238 3282
Email: info@thecommunityfoundation.org.uk
Erdington Learning Centre
101 Sutton New Road,
Erdington
Birmingham
B23 6RE
Telephone: 0121 303 4318
Email: sameena.asmat@birmingham.gov.uk
The Oak c/o St Michael's Church
17 Redstone Farm Road,
Hall Green,
Birmingham
B28 9NU
Telephone: 0121 777 5659
Email: crossovercensus@gmail.com
Selly Oak Centre
33b Hubert Road,
Selly Oak
Birmingham
B29 6DX
Telephone: 0121 303 4318
Email: sameena.asmat@birmingham.gov.uk
Northfield Centre
45 Church Road,
Northfield,
Birmingham
B31 2LB
Telephone: 0121 303 4318
Email: sameena.asmat@birmingham.gov.uk
Disability Resource Centre
Unit 18 Ace Business Park,
Mackadown Lane,
Kitts Green,
Birmingham
B33 0LD
Telephone: 030 3040 2040
Email: drc@disability.co.uk
Shard End Centre
Heathway Shopping Centre,
Shard End
Birmingham
B34 6QU
Telephone: 0121 303 4318
Email: sameena.asmat@birmingham.gov.uk
Aston Learning Centre
99 Whitehead Road,
Aston,
Birmingham
B6 6EJ
Telephone: 0121 303 4318
Email: sameena.asmat@birmingham.gov.uk
Go-Woman! Alliance CIC
c/o Adderley Children Centre
1 St Saviours Road
Birmingham
B8 1HN
Telephone: 0121 327 2997
Email: info@gwacic.com
Saltley Centre
80 Anthony Road,
Saltley
Birmingham
B8 3AA
Telephone: 0121 303 4318
Email: sameena.asmat@birmingham.gov.uk
St Paul's Centre
405B Belchers Lane,
Bordesley Green,
Birmingham,
B9 5SY
Telephone: 078 5974 3211
Email: crossovercensus@gmail.com
Near Birmingham
Sandwell
Ileys Community Association at Victoria Park Skill Centre
Corbett Street
Corner of Suffrage St
Smethwick
B66 3PU
Telephone: 0121 448 3940
Email: info@ileyscommunity.org
Sandwell Deaf Community Association - Deaf Access Centre
Summer St
West Bromwich
B71 4JA
Telephone: 0121 553 0201
Email: info@sdca.co.uk
Solihull
Solihull Libraries
Call the phoneline to arrange support and a member of staff will ring you within one working day.
Telephone: 0121 704 6005
Email: 2021Census@solihull.gov.uk
More information is at: https://www.solihull.gov.uk/About-Solihull/Census-2021
Dudley
Halesowen Library
Queensway Mall
The Cornbow
Halesowen
B63 4AZ
Telephone: 01384 812983
Email: dudley.libraries@gll.org
Dudley Wood Neighbourhood Learning Centre
Pavilion Gardens
off Dudley Wood Road
Netherton
Dudley
West Midlands
DY2 0DB
Telephone: 01384 818143
Email: AdultLearning.dachs@dudley.gov.uk