Former Hospitality student served up an award!
OCS Foodhouse recently presented a Star Award to current volunteer and former QAC residential student Jim for his amazing service since he joined the team in 2015.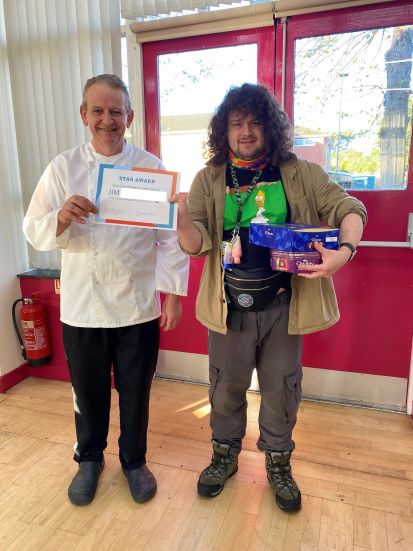 On completion of his Hospitality programme at QAC, Jim successfully secured a voluntary role with OCS Foodhouse 3 days a week following a work placement opportunity with them as part of his studies. Jim also progressed onto QAC's supported living provision, Independence Plus.
During his time with OCS Jim has continued to develop his knowledge and skills in the Hospitality industry - Jim regularly supports with cleaning, washing up, food preparation and supporting College break and lunch service.
Mike Holmes, OCS Foodhouse Manager, commented: "Jim gets on well with everyone and never fails to put a smile on our faces. He's an absolute pleasure to have around!"
OCS Foodhouse and QAC have a longstanding relationship built over many years providing a great selection of healthy, nutritious and delicious hot and cold meals using well-sourced ingredients for College staff and students.