2021 QAC Fund Me awards winners announced
We would like to say congratulations to this year's 'Fund Me' award winners Bradley, Thomas, Kevin and Jasper
This is the second year of the project, funded by National Express Foundation, which this year was open to eligible Supported Interns and STRIDES students to apply for grants to support their studies and employment prospects.
The group did really well, submitting detailed and well researched applications, outlining what career path they hope to take and why, along with what equipment would help them on their journey.
Following their applications, they each had to take part in a virtual 'interview' to a panel of staff, where they had to present their application in more detail and answer any questions the panel had. They all presented really confidently and passionately about their time at QAC and their chosen career path and it was obvious to the panel how much the opportunity meant to them.
As a result, they were successful in being awarded bursaries towards a range of new 'kit', including technology equipment, carpentry tools and books. They can each be seen below, smiling, after receiving their chosen items.
BRADLEY is looking forward to starting his work placement at Resources for Autism as soon as he can. For his 'Fund Me' application he told us about how he really wants to work as an LSA supporting young people with disabilities, just as QAC staff have supported him. To help him on his way, Bradley's award included some books and a laptop to help him keep on top of his work – as a student and employee!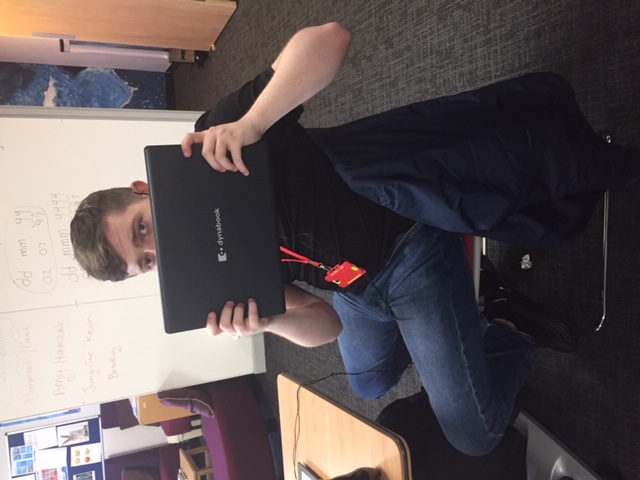 Previously a Performing Arts student, KEVIN loves everything about the theatre, and we mean everything. Which is why he wants to work in a theatre when he leaves college, and he has his sight set on The Rep in the City Centre. For his 'Fund Me' award, Kevin asked for an iPad to help him plan and communicate, along with a ZoomText USB which he can use on multiple devices to help him. He also asked for a dictaphone to help him record important tasks and instructions.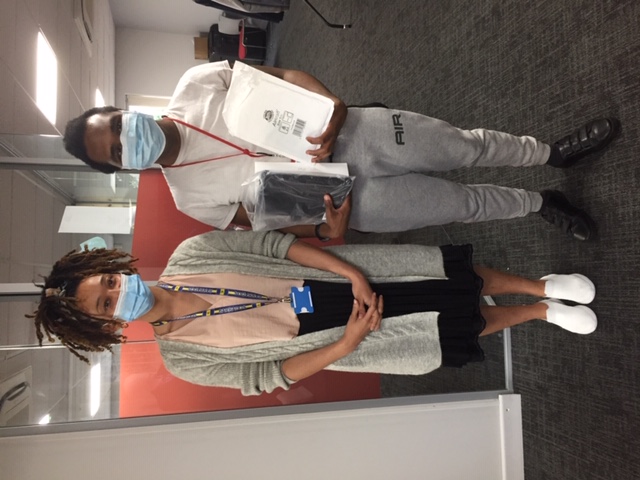 With a passion for all things technical, JASPER wants to be a Genius, an Apple Genius. Personal experience in an Apple shop inspired him to do the same, supporting customers – in particular those with disabilities – to get the service they need. Currently on the STRIDES programme, Jasper would love to get a placement with Apple, but in the meantime used his 'Fund Me' award to get an Apple Macbook Air to fine tune his skills.
THOMAS has enjoyed carpentry and woodwork from a very young age, even getting involved in it when he was a student on the main campus so it was an easy choice for him for his 'Fund Me' application. His enthusiasm was obvious in his application, with a very detailed and well researched list of equipment he needed to create his own carpentry kit. Thomas hopes this new kit, along with his iPad, will help him secure jobs and placements going forward.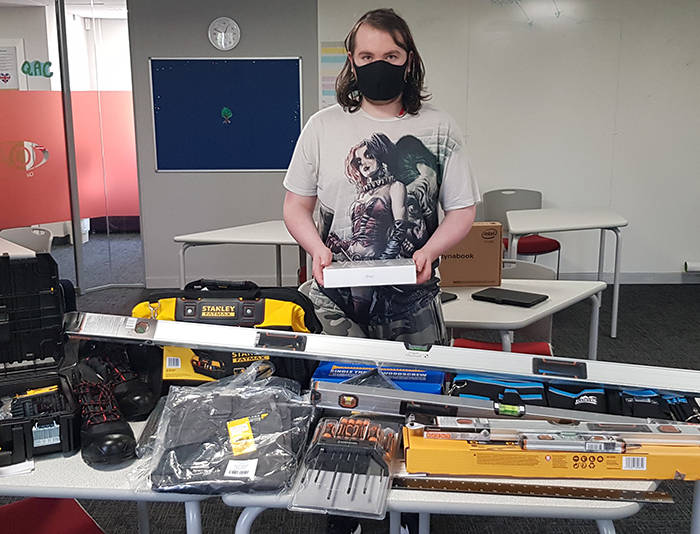 Once again, a big well done and congratulations to you all!