QAC COVID-19 Updates and Information Links
15 June 2020
We look forward to welcoming some of our final year students back to QAC on Monday 15th June 2020 as part of a phased re-engagement of face to face delivery. Online and home learning continues for all students.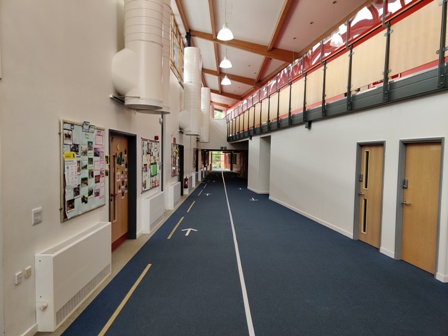 A lot of work, planning and risk assessing has taken place behind the scenes to implement the processes we need to adopt including one way systems and desks separated to help observe social distancing.
We will be adhering to the Department for Education guidance, with staff and small student groups working in a 'bubble'.
Please check this website page and our social media channels (Facebook and Twitter) for updates.
---
A message from Bev Jessop, QAC Principal and Chief Executive (recorded on Monday 11th May 2020):
---
Staff at QAC continue to help safeguard and protect our students and support them to ensure continued learning through these extraordinarily challenging times! We have created a series of 'Have-a-Go' videos on our YouTube channel for students to enjoy. You can join in with some of our 'Have-a-Go' sessions here.
---
A message from Bev Jessop, QAC Principal and Chief Executive (recorded on Thursday 16th April 2020):
Please find letter sent out to all parents and carers on Friday 17th April 2020 to detail the provision for QAC students after Easter here, and attached below.
---
On Monday 23rd March, the Prime Minister announced new stricter measures to tackle the spread of coronavirus (COVID-19). More information about the 'stay at home' message and what you need to do can be found here.
---
Safeguarding
We take seriously our responsibilities for safeguarding young people and vulnerable adults in our care. If you have any safeguarding concerns our designated safeguarding leads can be contacted here.
Please also find links listed below providing helpful information for young people and parents/carers:
---
Coronavirus and your wellbeing
You might be worried about coronavirus and how it could affect your life. This may include being asked to stay at home or avoid other people. Please find some useful information provided by Mind that could help your wellbeing here.
Useful resources provided by Bild (British Institute of Learning Disabilities) can be accessed here.
Please also find links listed below providing helpful information for families:
---
QAC takes the concerns over the health, support and welfare of students very seriously. On the instruction of the Department for Education and UK Government, QAC closed to students from 3pm on Friday 20th March 2020 until further notice. This is to maximise social distancing and to maximise student safety as much as we can even when a student has an educational plan. In order to support continuance of learning students will be issued with home working packs and will have contact from College by email/other agreed means as needed. Individual cases will be reviewed as required for welfare matters.
We understand that this national situation is unprecedented and is a worrying time for all. We will be continually reviewing our position based on our students needs and UK Government advice.
Clarification of QAC's plans during the threat of Coronavirus (COVID-19) can be accessed in Principal's letter to students and parents/carers here and attached below.
---
Please find our 'Stay at Home' pack to support student wellbeing and sensory needs and where to go for additional help and support attached below.
---
All of us at QAC are understandably concerned about the well being of our students, clients and colleagues and will continue to carefully follow the latest Public Health England guidance. We are actively monitoring on a daily basis, the situation around the corona virus (COVID-19) and are following the advice and guidance issued by Public Health England. As this is a rapidly evolving situation we are asking you to check the Public Health England website regularly to keep informed of the latest information.
You can access the most current advice and guidance from Public Health England here.
For advice and guidance for educational establishments, please click here.
Please find a social story to help explain Coronavirus (COVID-19) here.
---
The current advice is to stay at home and self isolate if you have:
a high temperature (37.8 C/100 F or more)
a new, continuous cough
a loss or change to your sense of smell or taste
This will help to protect others while you are infectious. The guidance states that people do not attend work, or go to a GP surgery, pharmacy or hospital. Advice states that you do not need to contact NHS 111 to tell them you're staying at home, but go to the online NHS/Government guidance website (above).
---
A number of external events and visits have been postponed or cancelled in the interests of public safety, please see 'news' updates for information.
---
Students, staff and visitors can minimise the risk of catching it by:
Washing hands frequently with soap and water or use a sanitiser gel
Catching coughs and sneezes with a disposable tissue
Throwing away used tissues (then wash hands)
Trying not to touch your eyes, nose and mouth with unwashed hands
Not sharing items that come into contact with your mouth such as cups and bottles
Downloads related to this article: